These questions are from Youkai Fire Fox. This person asks:

*fox girl is sitting on a armrai` chair, feet laid across a stool* Hello and welcome to the, SEIJI'IN-TIME GOSSIP.

*Fox sips a cup of honey tea*

I, Fox, contributes me' time to share me' questions with Lady Seijifreak. In hopes that Seiji and Nasty would answer these Buger awful Q's . *ponders thought* ~why am I so, Bloody British today?! DAnMe you SHIN!~

Seiji, mate, to be quite honest, all I was going to do was say good day to ye, then little ol' me got to think'in, that ought no way to share my comfort. *pats chair*

Neah, that ought no way, so I'll just have to share a few Q's. *Laughs stuffy*

Nasty, dear, sometimes I wonder how you do 'it'. Giving these lads, Troopers, a roof over their head, putting up with their playfulness, their, well, THEM and most of all, the most yuckiest task, feeding them. *moans* Bloody HELL, I would just through them out on their hides with noting but a small Yullie and a useless warlord. See what kind of good will they can bring to the world then. *chokes on tea* Of course you would keep Seiji lad. *wipes spelt tea from lap* Bloody ARK!

Nasty, exactly what was your reaction to this picture? Ummm, the on below this question I mean. Don't tell me this kind of stuff happens on a daily basis. *sheers in fright* What was Touma thinking. That hat is just so, yesterday! ~kid needs a fashion alert~ I must ask, does the poor boy dress like the hamburger man often? Look at the pic and it will tell all.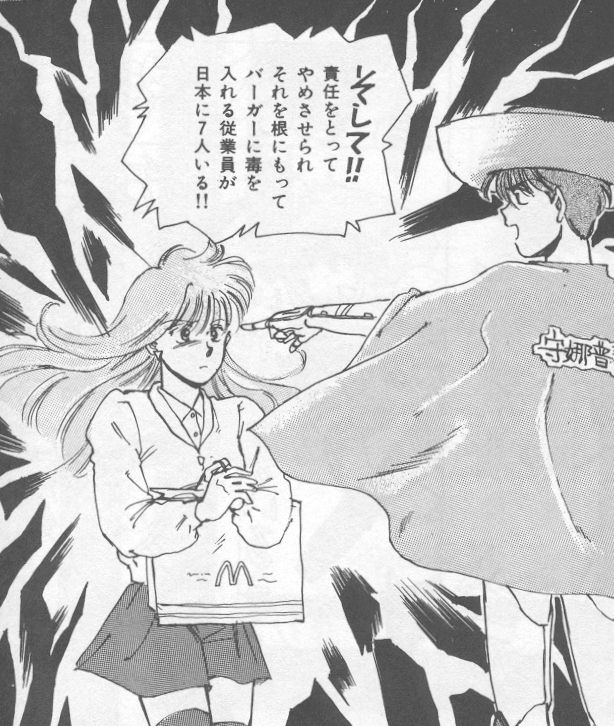 *gossip giggle* You must share what happened in this pic? Seiji, lad, tell me darlin, how long until ye and the guys were able to sit down? *breaks out in laughter* I honestly don't think Arigo himself could have given the boys a better punishment. Nothing wosier than a women giving out belts on ye's hinnies. Nasty do tell, do tell. *clears throat* This has been the gossip corner. Come again to SEIJI'IN-TIME GOSSIP. *looks at empty cup of tea* Ummm, butler, I need a cap of me ol' tea. *holds out cup and saucer for servant*

*Arigo comes in grumbling. He's all dress up in a stuffy tight waiter tux*
ARIGO: You are going to pay for this, very dearly, you little .. .
FOX: Aye, dear ye will. Now, please go off and fetch me another tea .. oh, fudge, I'm late for Dragon ball Z, crud! Oh, that re-minds me. *stands up from chair and shoves pass Arigo* Seijifreak, mate, I've come to think ye like Dragon ball Z? Any who, the International channel has the original un-dubbed dragon ball Z from Japan on there. It's quite good, in deed it is , it's farther more into the episodes then the American one. I think it's on Wednesdays nights, late nights, I half to check that. That and I thought they said they were going to bring Yoriden Troopers to it to? Don't know, I thought that's what they said. They have original Japanese anime's, like, X, dragon ball Z. ect ..I'll e-mail ye on this if ye are interested? TA-TA, darlin!
*walks off, leaving a angry Arigo to clean up her mess*
Arigo: Now I know what mama meant when she said women would bring an end to me. First that smart assTrooper girl, then greedy Kay-lady, *sniff* Now it's this frekin ego look alike nasty/Fox girl FROM GOD KNOWS WHERE! CRAP, I rubed a hole in the soffa. WhAAAAAAA, that means no pay-check! Shoot, maybe Pokemon needs an extra? *thinks*
Fox: ARIGO!!!!!!!!!!!!!!!
Arigo: Heck, Digimon would even do. *stops to stare at reflection in mirror* Holy pink men in tights, I think this suite makes me look fat!